Fate Materials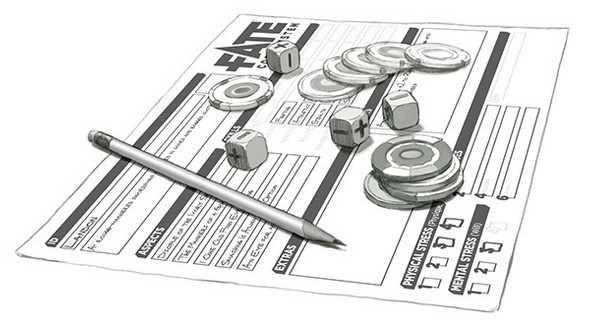 Here is a list of fate materials I use in my Fate games. Some of the handouts and printed sheets I made, some I found, some I stole. If you see something I "borrowed" from you and didn't get credit for, just reach out and I'll make sure to do so.
Game Materials
These are the general game materials I use to make my game run smoother and to craft useful handouts and materials.
Fate Accelerated Edition Printout
I printed out about six copies of the FAE rulebook, folded, and center stapled them so each player would have it to reference. The Core rulebook is a little large to print out and center staple, and I have a hard copy, so I didn't bother.
Character Sheet
I re-created the Core and FAE character sheet in illustrator to use as a template for any other character sheets I wanted to custom make for the game.
Core Character Template (.ai) (.pdf) (.png preview)
FAE Character Template (.ai) (.pdf) (.png preview)
Template Requirements
Adobe Illustrator
Montserrat Font replaces Gotham font
Vollkorn font replaces Adobe Garamond Pro font. I'm looking to replace it at some point, there are a few things I don't like about this font after using it on several sheets. The Core sheet still uses Adobe Garamond, so there's that.
GM Shield
Not everyone uses a shield for Fate – I don't particularly care for it – but in this case there were a few things I wanted to have up for quick and easy reference. The GM shield I made takes inserts and it provided a safe place for me to fudge my rolls when needed (why fudge rolls? A debatable topic and one I'll cover in another post).
I made my GM shield with posterboard, hockey tape (gaffer/cloth tape), and page protectors. It's based on an instructional video for a small GM shield, but I added the addition of page protectors and made it fit 8.5″ x 11″ pages.
Cheat Sheets
I have a number of cheat sheets handy, some that I put in the GM shield (outside facing the players AND inside for me) and some I handed  out to players to look over.
Exterior GM Shield Insert (facing players) / Player Handouts (.pdf)
Interior GM Shield Insert – This insert sits front and center and I use it to keep track of all the player aspects and basic character information. The GM shield usually has three slots and I use one empty spot for any custom game materials I have and the other for more custom materials or a copy of the player cheat sheet.
Miscellaneous Materials
Aether Sea Materials
These are the materials I use specifically for the Aether Sea game. It requires a few extra or modified items from a standard lineup.
Aether Sea Player's Guide
The Aether Sea game PDF comes with an included adventure, It's only an Elven Moon. I was going to use that as the kick-off adventure, but I also wanted to give my players a printed handout of the game. Editing PDFs is fairly simple, so I broke my version out into a "Player's Guide" and an "Adventure Module". After printing and center stapling the player's guide, each player got their own little game manual.
It's Only an Elven Moon Adventure Module
As stated above, I broke out the players section from the adventure module. I printed out the adventure module section as it's own little book for easy reference.
Character Sheets
Unlike some Fate games, Aether Sea does not come with a character sheet (or ship sheet). So, me being me, I made one. I used the FAE Character Sheet template I had made previously, and styled it to fit the Aether Sea. I also made a ship sheet tailored specifically for the rules of Aether Sea. They each come with a handy cheat sheet.
You are free to use them in your own sessions. If you note any mistakes or want to recommend any changes, leave a comment.
Featured Image via the Fate Core book
---